Traveling Back in Time to June 2019
-My Second and Final Gateway Con-
It is with a heavy heart that I write this, because
the wonderful convention known as Gateway Con
has officially been cancelled, probably forever. The three-day writing retreat I'd recommend first above all other writing conventions is being replaced with a one-day writing retreat, "Writers in the Park."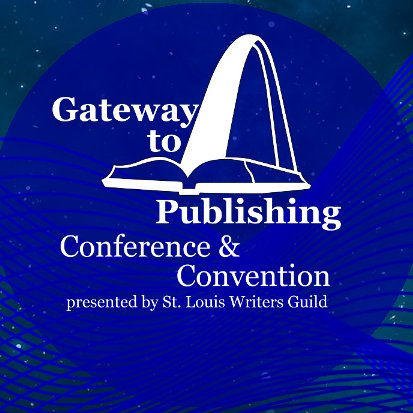 The situation is disappointing to say the least. Supposedly, it wasn't making enough money to sustain itself. I'd argue that money isn't the point, it's inspiring and educating prospective writers, that the friendships we made along the way were worth more, but unfortunately it's not my call. Goodbye, Gateway Con. I will miss you. You helped me become the writer I am today. Hopefully Writers in the Park will be half as fun.
But with bad news comes good, and here's my trip back in time to Gateway Con 2019 and the events that transpired.
-Meeting Old Friends and Making New-
This year was different in so many ways. Gateway Con 2018, my first con I attended, came right after a major tragedy in my life. Despite trying to be excited in making the first major step in pursuing a writing career, it was hard for me to truly enjoy myself with the fresh wound on my heart. Still, I made lasting friends there and don't regret it for a second. I could barely wait for the next year to come around.
Gateway 2019 was me letting loose in the best of ways. I was grinning ear to ear all weekend. It marked my very first book signing, the debut of
The Un-Life of William Moore.
I "made table," as they say, which is more than I could have hoped for. I met three times as many people as the year before, many of them I've continued to talk to since.
Photo by Joshua Skurtu (another awesome writer friend in the left corner).
The first person who ever bought my book (talking 'bout you, Wells!), was an energetic vegan who wrote literary fiction so beautifully it almost made me cry. I reconnected with a fellow vampire writer I met the year before (that's you,
Shailo
!) who I'm even better friends with than before. Then, of course, there was the two other Ryans taking the place of my good friend
Ryan
who couldn't attend. And last but not least, for the first time I met my wonderfully naughty table-neighbor,
Leigh Savage
, whom I'm car-pooling with to the
Grown Up Book Fair this weekend
.
-Round Two: Pitching to Agents-
But I wasn't just at Gateway Con to make friends and sell books. I was there to try and publish my next book, the first installment of
Blood Knights
. It's the most vivid world I've ever created and I'm very proud of it. I truly believe it is worthy of traditional publishing - I just wasn't expecting agents to be so positive about it too!
I spoke to three agents:
Patty Carother
s,
Kortney Price
, and
Jennifer Chen Tran
. All three of them reacted above and beyond what I reasonably expected. While I didn't get a full manuscript request from any of them, all three of them loved my pitch and what I was pitching. I felt like I was outright glowing from the praise. Jennifer was excited about it even though she didn't rep the genre. "I wish I did rep it!" she had said, and she gave me some contacts from her agency to try. Score.
Both Patty and Kortney requested the first 3 chapters and 25 pages, respectfully. I sent all requested material at the same time. Within two days Kortney rejected me. I'll say that again: within two days. That is amazing! I'm not even mad! The fact that she got to me within two days tells me that she was likely excited to receive it. Or it just means she wasn't that busy, but I like to try and stay positive. She said it reminded her too much of Supernatural (not sure why that's bad, but fair, I suppose). I'm still waiting to hear from Patty, but fingers crossed. As far as the recommendations from Jennifer, I'm going to be querying them in the near future if I don't hear from Patty soon.
I will say - pitching this year was easy. I'd already met Patty and Kortney the year before so I half-way knew them. It made the experience less stressful and more conversational. For each agent I had ample time after the pitch to actually just talk to them before my time was up. So for prospective writers out there too scared to pitch face-to-face to an agent - just jump in and do it once. It will be easier the second go around. Consider your first a test run if you need to. Just do it; you won't regret it!
-The Story of Blood Knights Continues-
Stay tuned for my next blog post talking in more detail about my
Blood Knights
series and where I'm at with it. It's gonna be a good one!
Don't forget; your writing community it out there - all you have to do is find it!
-Dana Lockhart